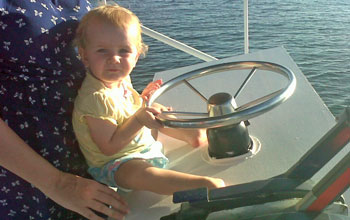 Many young families have discovered the fascination of nature and the 'great out-doors' and the benefit of introducing their children to our worlds natural environment. Children have a fertile imagination plus a mind like a sponge when it comes to taking in new and exciting experiences; a small boat safari on a beautiful desert lake has many more worthwhile adventures than a standardised sun, sea & sand holiday staying in a plush hotel.
Having your own private house boat means you can relax and let your family settle into their own personal environment.
The atmosphere of a small boat safari is likely to be completely different to what you have probably experienced before. The focal point of each safari is the mother ship which provides excellent meals and a place to relax and socialize. Every day the mother ship moves to a different camp site which is usually located on a sandy beach in beautiful desert surroundings. Swimming is safe close to the boats and there are plenty of opportunities to relax and sunbathe or play games on the sandy beach. Another bit of good news is, you will be out of connection range for mobile phone devices!
Our safari staff and guides are all Nubians who inhabited the Nile Valley before it was flooded by Lake Nasser. There is an excellent esprit de corps amongst our Nubian staff and you can't beat them for their spontaneous and genuine friendship. The Nubian people have a very close affinity with children and family life in general which is a focal point of their culture. You will be well looked after, especially the kids and mother can relax knowing her family is being well taken care of.
The Nubians have a special reputation amongst outsiders; their characteristics are generally considered to be honesty, trustworthiness, good heartedness and cooperation. But this reputation covers not only the people but also their country, which was called Balad El-Aman, a land of safety and security. I am telling you all this because the whole crew and the staff of African Angler are Nubians, and without exaggerating, I have barely ever met better, politer, more helpful and grateful people in my whole life! These guys are very proud of their culture and their values and until today represent them to the fullest! Moritz Witter May 2015
Every day will bring a different experience as you explore this desert lake in your own live aboard boat. There is a lot to see and do, in many ways it's like visiting a game park where you can also have the fun of catching and releasing big fish. Lake Nasser is famous for some of the best fresh water fishing in the world and if you are interested you can try your luck for a Nile perch or a Tiger fish. Our Nubian guides are all experienced fishermen and will teach you the best way to catch fish.
You will learn about the Sahara desert and what it looks like and are likely to meet a family of Basheria Bedouin nomads who live in the desert and tend their herds of camels and sheep which feed on the sparse vegetation along the shore of the lake. Or meet friendly fishermen to find out what they have caught; sometimes even small crocodiles are caught in their fishing nets.
The lake supports an impressive variety of wildlife and is an important staging point for migrant and over-wintering birds on their long annual migrations between Africa and Europe. In many areas there are crocodiles and monitor lizards also Dorcas gazelle, golden jackals, desert fox and even shy striped hyena, inhabit the shoreline and islands.
It is well worth while taking a walk along the shoreline of the lake. In some places, water has washed away the top soil, cleaning the sandstone to reveal plant and animal fossils of bygone eras. Also, Stone Age drawings and more 'modern' hieroglyphics, carved by ancient Egyptians during their trading or mineral seeking expeditions down the Nile can be found.
The weather is always sunny; most areas will not see any rain for five, ten or more years. Spectacular desert sunset are followed by a dazzling night sky full of brilliantly bright stars; in this part of the world there is no light pollution from our civilization something few people have ever experienced.