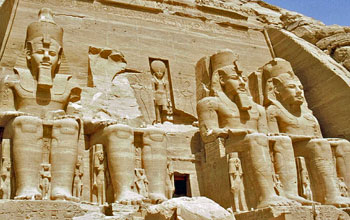 Carved out of a hill of solid rock, four immense statues of Ramses II address the lake, Ramses built them to intimidate his enemies and seat himself amongst the gods.
On Lake Nasser, six cruise ships transport thousands of tourists to and from Aswan to visit the world-famous Temples at Abu Simbel. They cruise down the middle of the lake only stopping at ancient temple sites.
Our small boat cruise to visit the temples at Abu Simbel is a more worthwhile adventure than travelling in a crowded stereotypical cruise ship….
Click for 3 minute video Temples of Abu Simbel.
''Our objective is to offer affordable first class holidays personalized to small groups of individuals and families who would like a break from crowded tourist sites and experience Egypt from a unique perspective"
How a Small Boat Cruise Works
Explore the lake in your own live aboard boat then, to relax and have your meals, join the social atmosphere of a well-appointed mother ship. Having your own live aboard boat offers the privacy our guests prefer. No crowded cabins next door to each other; it is all your own private space with on board facilities.
Mother Ships. Our concept of having an independent unit taking care of catering and recreation is unique on Lake Nasser. With cruise ships everything is cramped together in one unit with little privacy. Cruise ships, big or small, are too cumbersome to get close to wild life and manoeuvre in shallower water where all the action is. Our live aboard boats are perfect for getting a close-up experience of this magnificent desert lake.
At night, when the lights have been turned off the area comes alive; Gerbils scouting around for leftovers; desert foxes or Golden Jackals are also likely to be searching for titbits we sometimes leave out for them.
During the day there are plenty of opportunities to explore this desert lake's shore line with its captivating environment and prolific bird life. Water has washed away the top soil to reveal fossils of bygone eras. Also, Stone Age drawings and more recent hieroglyphics, carved by ancient Egyptians during their trading expeditions can be found.
You will meet the desert Bedouin and the fishermen who are remarkably hospitable; they are just as interested in meeting you as you will be to meet them. An unforgettable and rewarding holiday experience.
Information: Safari Boats & Crew
Abu Simbel Cruise Itinerary
The Abu Simbel small boat cruise starts or ends at either Aswan or Abu Simbel, depending on where the boats are located. Each day you will be cruising for 5 or 6 hours taking in the incredible scenery. Between cruising times, there are plenty of chances to, go for walks, wild life viewing, visiting the local Bedouin or exploring the ancient monuments on the shore of the lake.
You can come on either a four or a five day cruise, we recommend a five day cruise it is more relaxing with extra time to explore the lake.
3 nights & 4 days - weekly on Monday or Thursday or 4 nights & 5 days - weekly on Sunday or Thursday
Aswan to Abu Simbel:
Day 1: We will collect you from any location in Aswan and transfer you to the safari start point at the Aswan High Dam. Lunch & dinner
On Safari: The number of days you have booked all meals and hot beverages are included.
Day 4 or 5: After lunch on your mother ship visit the Temples of Abu Simbel. At 4 pm we will transfer you to Aswan by road the arrival time in Aswan is approx. 7.30 pm. We will transfer you to any location in Aswan to connect with your ongoing itinerary.
Abu Simbel to Aswan:
Day 1: We will collect you from any location in Aswan and transfer you by road to Abu Simbel, this journey takes about 3 hours then, after visiting the Abu Simbel temples you join the safari boats for your cruise north to Aswan. Lunch & dinner
On Safari: The number of days you have booked all meals and hot beverages are included.
Day 4 or 5: The safari cruise ends at the Aswan High Dam at 4 pm, we will transfer you to any location in Aswan to connect with your itinerary.
Send me itinerary and cost: Itinerary & Cost
Family Discount: Adults pay the full amount under the price band of the number travelling together. Children under 18 years old get a 15% discount, 6 years old or younger get a 50% discount off the same price band.
Organizer: If you have a group of 6 or more adults on the same safari the 'organizer' the 6th person gets a 15% discount off the cost of their safari.
Solo Travellers are welcome: Pay a reasonable supplement then you have the option of using the safari boat for your own personal use or if you find a partner, neither of you will pay the supplement.
"These safaris are not just about angling and fishing. To sit back under a sky full of stars, eating, drinking and yarning, listening to the desert sounds.... are a super experience, both exciting and relaxing simultaneously ". Barrie Rickards: Professor of Palaeontology and Biostratigraphy Cambridge University.
We are a small professional family business who in 1993 had the privilege of being the first to pioneer small boat safaris on Lake Nasser. We specialize exclusively on Lake Nasser and as a result have unparalleled experience of this magnificent desert lake.
WE LOOK FORWARD TO WELCOMING YOU TO OUR DESERT LAKE