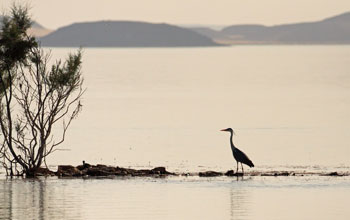 A degree of privacy which many people prefer
Charter your own boat safari unit; a mother ship, house boats and or safari boats with an experienced safari crew who will take good care of you. You have the exclusive use of this unit and can make your own decisions about when to move camp. Set out and explore the lake, at their own pace, on an out-door adventure which has few equals anywhere. At the same time enjoying the experience of a traditional safari waited on 'hand & foot' by an experienced team of Nubian safari staff and guides.
For more information refer to Safari Boat & Crew
Private Charter
Starts any day of the year for as many days as required (minimum charter 2 nights & 3 days)
First Day: An African Angler tour coordinator will meet you from any location in Aswan, the airport, a hotel or a Nile cruise ship and transfer you to and from the safari start point on the lake.
On Safari: The number of days you have booked for your Nubian Safari will be spent exploring on Lake Nasser. All meals and hot beverages are included.
Safari Ends: The safari ends at approximately 4.00pm when we will transfer you from the lake to any location in Aswan for your onward travel arrangements. Breakfast & lunch included.
Send me Itinerary & cost
Live Aboard Boats
For your live aboard boat you can charter either House Boats or Safari Boats which you have for your own exclusive use. Each boat is skippered by an English speaking Nubian guide with local knowledge of the wildlife and places of interest. Your live aboard boat is supported by a well-appointed mother ship for night stops, your meals and resting up with a cold drink.
House boats are fitted with a toilet & shower and a small galley with amenities for making tea or coffee. The sun deck has a comfortable shaded area which is ideal for relaxing and sightseeing. A house boat is perfect for exploring the lake, big enough to be comfortable but also small enough to reach shallow areas, where you are more likely to see wild life and get close enough for a memorable photograph.
Safari Boats are smaller than the house boats they were originally designed for fishing. Ideal for those who would like to try their luck for Nile perch or Tiger fish while on safari. Safari boats have a cabin with two large single bunks which sleep two people comfortably. Unlike the house boats, safari boats do not have an on board toilet and shower, these facilities are provided for on the mother ship.
House Boat & Safari Boat Combo: Chartering two boats is the ideal for families or a group of friends; it is less expensive than having to charter two House Boats. House Boats have two cabins which sleep four comfortably and with two comfy beds in the Safari Boat this combo can accommodates up to six people.
For more information click Safari Boats & Crew

Family Discount: Adults pay the full amount under the price band of the number of family members travelling together and each child who is 18 years old or younger will get a 15% discount off the same price band.