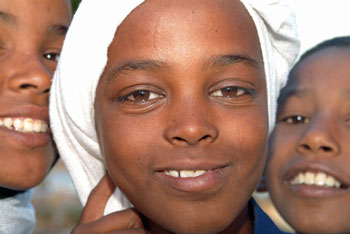 Abu Simbel cruise on a budget
Our Mother Ship Safari cruise on Lake Nasser starts or ends at the famous Temples of Abu Simbel; carved out of solid rock four immense statues of Ramses II address the lake, designed as a show of strength, an awesome sentinel watching over any boats sailing into the Pharaoh's lands.
The emphasis of these safaris is not just about a stunning desert lake and its wildlife but also about the Nubian people and desert Bedouin camel and sheep herdsmen who graze their flocks on sparse vegetation growing on the shoreline. The Land of Nuba was the name of the ancestral home of the Nubian people before their farms and villages were flooded by Lake Nasser. A little under one third of this massive desert lake is located in Northern Sudan, some sixty kilometres south of Abu Simbel, the Sudanese have correctly named there section of the lake 'Lake Nuba'.
There are several archaeological sites on the lake which were dismantled block by block and moved to higher ground when the lake first inundated the Nile Valley; these temples represent the land of Nubia during the Pharaonic period.
The lake is blessed with vast areas of natural beauty and has an impressive variety of resident birds, mammals, and reptiles; the area is an important staging point for migrant and over-wintering birds. This bird population is followed by their predators; Nile crocodiles and monitor lizards and other species of wildlife include Dorcas gazelle, jackals, desert fox, and other mammals inhabit the shoreline and islands.
There is a lot to see and do, in many ways it's like visiting a game park viewing spectacular scenery and wild life, go for walks in a desert environment or meet the nomads.
How a Mother Ship Safari Works
If you don't mind roughing it in comfort this small boat safari is a great adventure exploring an amazing desert lake then visiting the world famous Temples of Abu Simbel with other like-minded people.
The focal point is a medium sized motor vessel which we call a mother ship; they are spacious and well-appointed with toilets and hot showers. There is a large top deck and dining area on the lower deck there is a large enclosed cabin.
You sleep in your own sleeping bag, we provide a comfy mattress and pillow. Although there is no real privacy you will have plenty of space in your own sleeping area where you will be comfortable and out of any bad weather should it occur.
A smaller support boat attends the mother ship to accommodate the Nubian safari staff who will be looking after you; this second boat is a useful back-up and allows you more space.
Camps are located on sandy beaches where it is safe to swim in the lakes clean fresh water. There are plenty of opportunities to walk along the desert shore where, in some places, the water has washed away the top soil to reveal plant and animal fossils of bygone eras. We have found Stone Age drawings and more 'modern' Hieroglyphics, carved by ancient Egyptians during their trading or mineral seeking expeditions down the Nile.
Our safari crews are all Nubians who inhabited the Nile Valley before it was flooded by Lake Nasser. The Nubian people have a proud and rich heritage which dates back to long before the Pharaohs were in control of ancient Egypt; to this day they still maintain their own distinct traditions, architecture, and their own language. There is an excellent esprit de corps amongst our Nubian staff, they are proud of the work they do and you can't beat them for their spontaneous and genuine friendship.
All your meals are provided on the safari, tea or coffee is also available at all times. Our mother ships have built in kitchens; you will be surprised at the standard of food our cooks are able to provide in the wilderness, Nubian cuisine blended with a western taste; you will eat well.
4 nights and 5 days: Cruise between Aswan & Abu Simbel
Your Mothership Safari starts from either Aswan or Abu Simbel, depending on where the boats are located on the date you select. The total travelling time is about 25 hours, so on average you will be cruising on the lake at a leisurely pace of about 5/6 hours a day. Interspersed between daily travelling times you are free to explore the lake, go for walks, wild life viewing, visiting Bedouin or simply taking in the incredible scenery.
You have two options ….
(1) Make your own arrangements to reach Aswan. On the day the safari starts we will meet you at the airport or any other location in Aswan and then transfer you to and from the safari start point on the lake.
(2) Spend the night before and after your safari at an ethnic Nubian hotel, clean comfortable, great food but, above all, an amazing atmosphere of hospitality and surroundings which are totally unique compared to stereotype hotels.
Your safari can start any Sunday or Friday of the year.
Lake Nasser Itinerary
Some of the places mentioned in the itinerary below may vary at different times of the year; wild life moves and the lake levels are constantly changing so we follow nature's pattern.
Day Before Safari Starts
We will collect you from Aswan airport or any other location in Aswan and transfer you to your Ethnic Nubian hotel for bed & breakfast.
Day 1 Safari Starts We will transfer you from any location in Aswan to the safari start point to be welcomed by your guide who will help you settle in. Cruise south from Aswan and camp for the first night at Jackal Island.
Day 2 Cruise south through narrowest part of the lake 1-km wide, visiting aptly named places like Snake Island, Bird Shit Island which is bleached white with guano, local fisherman's camps, and so on.
Day 3 Cruise on to Wadi As-Subua (Valley of Lions) passing through areas which are prolific with bird life. Then on to Krosko an area of spectacular desert grandeur, sweeping sand dunes to the west and rugged, tall hills of sandstone and granite to the east; this area is also famous for its huge Nile crocodiles. In the evening relax with a cold drink and watch a spectacular desert sunset followed by a night sky full of brilliant stars.
Day 4 Visit Qasr Ibrim an ancient fortress settlement situated at a strategic point overlooking the Nile. Here we also find Stone Age rock drawings and an ancient grave yard which has been desecrated by grave robbers.
Day 5 Cruise on to Abu Simbel then after lunch you have the option of visiting the Temples of Abu Simbel (Entry $15.00). At 4pm we will transfer you back to Aswan arriving at approximately 7.30pm.
We will transfer you to your Nubian Hotel for the night and then after check out the following day we will transfer you to the airport or any other location in Aswan.
Send me Itinerary & Cost
Lake Nasser Safari Information
Group Size: The maximum number of guests accommodated in a mother ship is ten. A smaller boat also attends the mother ship to accommodate the Nubian safari staff who looks after you; this second boat is a useful back-up and allows you more space. For more than ten guests we will provide extra boats.
Ethnic Hotel Package: We use small boutique Nubian hotels which are comfortable, air-conditioned, with good interesting food. When you make a booking we will send details about your hotel; the best ethnic hotels are small and popular so it will depend on availability.
Discounts: Apply to the safari section only, not for arrangements such as hotels, sightseeing etc.
Family: Adults pay the full amount under the price band of the number of family members travelling together and each child who is 18 years old or younger will get a 15% discount off the same price band.
Organizer: If you represent a group of six or more friends coming on the same safari you get an organizer discount. For six or more people, who book a safari together, the organizer (or the sixth person) gets a 20% discount off the cost of their safari.
Destination Information: It is important to be well prepared refer to Getting Ready & Arrival
The Nubians have a special reputation amongst outsiders; their characteristics are generally considered to be honesty, trustworthiness, good heartedness and cooperation. But this reputation covers not only the people but also their country, which was called Balad El-Aman, a land of safety and security. I am telling you all this because the whole crew and the staff of African Angler are Nubians, and without exaggerating, I have barely ever met better, politer, more helpful and grateful people in my whole life! These guys are very proud of their culture and their values and until today represent them to the fullest! Moritz Witter May 2014